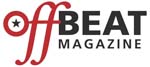 Propelled by the powerful thwangs of the upright bass and to the tune of screaming sax, Rory Danger and the Danger Dangers roared through French Quarter Fest yesterday afternoon in furious pursuit of that infamous great white whale, Moby Dick.
(Slash… non-local Jazz Fest headliner Elton John?)
New Orleans' favorite all-star rockabilly band has dragged us through the arctic, into space, onto "The Wheel of Misfortune", and along for all sorts of other bizarre capers. For their latest high jinks, they've hit the high seas with a rip-roaring tribute to Melville's famous novel.